DMARC adoption is on the rise- all thanks to awareness spread by cybersecurity experts and DMARC service providers. As of 2021, almost 5 million unique DMARC records are logged, meaning the total number of valid DMARC policies has increased by a steep 84%. This is twice the percentage increase observed in the prior calendar year. 
However, it's also been observed that it's primarily large-scale companies that have shifted their focus toward email security and DMARC policies. In contrast, small-and-mid scale companies have still not taken this crucial step. 
Phishers Hit Irrespective of the Business Size and Capacity!
Business size doesn't matter for phishers and scammers. Since small-and-mid scale business owners have limited resources (finances, team, time, etc.), they are unable to leverage the benefits and protection offered by DMARC, enabling bad actors to see them as potential targets. 
Apart from the lack of resources, they also bear the mindset that malicious attackers target only big businesses.
As per research, almost 33% of companies having less than 50 employees are using free, consumer-grade cybersecurity, and 1 out of every 5 companies aren't using any endpoint security medium. What's worse is that as much as 43% of small-and-medium businesses have no cybersecurity defense at all, which means all their data and systems are highly vulnerable to cyberattacks.
It's even more disappointing to know that many large companies have DMARC records in place, but they have put them on deactivated mode. This is because with multiple subdomains, email streams, and the involvement of third-party agencies comes the challenge of maintaining DMARC records. Even a tiny configurational error or typo makes a DMARC record invalid or erroneous, causing quarantining or rejection of legitimate emails as well. 
Using a credible and reputed DMARC checker tool helps eliminate the chances of invalid or erroneous DMARC records. It runs checks and instantaneously highlights existing errors in the queried domain's DMARC record. 
PowerDMARC Analyzes Business Domains for DMARC Adoption
In 2023, we at PowerDMARC analyzed hundreds of domains belonging to the following countries, giving us deep insights into the critically low DMARC and email authentication adoption rates in these countries – and also globally. 
Saudi Arabia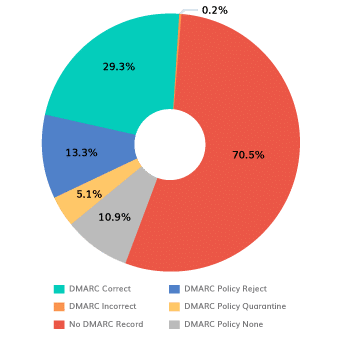 70.5% out of 1049 analyzed domains in Saudi. View report.
United Arab Emirates 
72.1% out of 961 analyzed domains in the UAE. View report.
Uzbekistan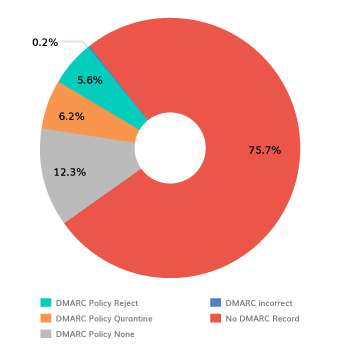 75.7% out of 826 analyzed domains in Uzbekistan. View report.
Kazakhstan
66.7% out of 525 analyzed domains in Kazakhstan. View report.
From the data found in these reports, it was clear to us that organizations around do not take DMARC seriously, even in this day and age. The awareness on email authentication and importance is limited, with several organizations still believing that a DMARC policy at p=none is enough to protect them against cyberattacks —- which is a complete myth! 
Why Should Businesses of All Sizes Adopt DMARC?
DMARC shields you from phishing attacks attempted in your company's name and also boosts email deliverability rate, which ensures your messages reach desired recipients' inboxes. It instills trust in various recipient email service providers that your domain is legitimate and should not be perceived as spam-y.
Here we are sharing 6 major reasons why companies need to take DMARC implementation seriously:. 
1. Phishing Prevention
Bad actors send fraudulent emails from your domain by posing as someone from your company. These messages generally request recipients (your clients, prospects, employees, shareholders, etc.) to share sensitive details or download malicious links. Since emails come from your organization's official domain, recipients trust them and take the requested action, giving hackers the opportunity to exploit the shared data.
DMARC adoption significantly reduces phishing attacks for your domains. 
2. Offers Domain Visibility
DMARC report analyzer converts complex-to-read XML files into an easy-to-comprehend format that you can monitor to see how your email-sending domain is being used. You can know who all are sending messages on your behalf, how many of them are authenticated, and the reasons why some emails are failing authentication checks. 
3. Improves Email Deliverability
Email deliverability is the ability of emails sent from your domain to reach desired recipients' primary inboxes and not get marked as spam or bounce back. If your emails are not authenticated and are frequently getting marked as spam, there's no way your email deliverability won't get affected.  
Here's what you can expect out of a poor email deliverability rate-
No or low return on investment.

Disrupted communication flow with your clients and prospects, which will directly impact your sales and business reputation.

Low engagement.
With improved email deliverability through authentication, your messages pass spam filters, and ESPs start trusting your domain.
4. Better Yields From Marketing and PR Campaigns
With good and improved email deliverability, the chances of marketing and PR-centric emails reaching the desired audience's inboxes increase. So, the more number of subscribers or media personnel engage with you, the better the yields are. This boosts your sales, media presence, and reputation in the market.
On the other hand, your team's efforts won't be paid off if your emails are mostly getting spam or junk placement, or worse- they are bouncing back..!!
Click here to view our strategic guide on DMARC for email marketers.
5. Enables You to Decide What Should Recipients Do With Illegitimate Emails
There are three DMARC policies– none, quarantine, or reject. They help you instruct recipients' mail servers how to handle emails coming from your domain but failing SPF and/or DKIM authentication checks. 
If you set your DMARC record to the none policy, then no action is taken against these messages. As per the quarantine policy, they are marked as spam, and if you set your record to reject policy, such emails are rejected from entering recipients' mailboxes. 
p=reject is the strongest DMARC policy, but it should be implemented only if you are 100% sure that none of your legitimate emails are landing in junk folders. And remember that this confidence is very difficult to come by, and you may never be fully sure of this. 
6. Protects From BEC Scams
In 2022, the IC3 received 21,832 BEC complaints with adjusted losses of over $2.7 billion. This accounts for a whopping surge of 175% within the last 2 calendar years. 
In BEC or Business Email Compromise scams, hackers send emails posing as senior officials (usually CEOs or HODs), instructing executive or senior-executive level employees (generally from the finance department) to make immediate wire transfers to bank accounts belonging to them. Since accounts handled by hackers are named after service providers, no suspicion is raised. 
As DMARC disallows unauthorized senders to use your domain for sending emails, you can protect your business from potential BEC scams. Its implementation makes it extremely challenging for them to impersonate a trusted sender and send illegitimate emails that actually appear legitimate. 
Secure Your Email-Sending Domains Today!
We at PowerDMARC have offered support and guidance to thousands of customers and hundreds of businesses spanning 45 countries on the implementation and maintenance of email authentication protocols as per their specific needs and requirements. Our platform provides granular monitoring and management facilities for your DMARC adoption setup, helping you actively analyze your domain and emails for security vulnerabilities, mitigate attacks and practice enforced protection. 
Request a DMARC demo today, where our experts will create an outline to explain how we can protect your domain and business reputation against BEC, phishing, and spoofing while also boosting your email's deliverability rate.