Continuous Threat Exposure Management (CTEM) is a new approach to cyber threat management.
This integrates threat intelligence situational awareness and automated response capabilities, enabling organizations to respond to new or evolving cyber threats more effectively and proactively.
In practical terms, CTEM focuses on exposing corporations and organizations to the threats that pose the most significant risks to their information security through continuous processes and frequent assessment of existing threat protection measures.
What Is Continuous Threat Exposure Management (CTEM)?
Continuous Threat Exposure Management (CTEM) is the process of identifying, measuring, and prioritizing risks to critical assets. 
The notion of CTEM, a framework that enables businesses to continuously and consistently assess the vulnerability of their physical and digital assets, was introduced by Gartner in July 2022.
It is an essential component of a cyber resilience strategy.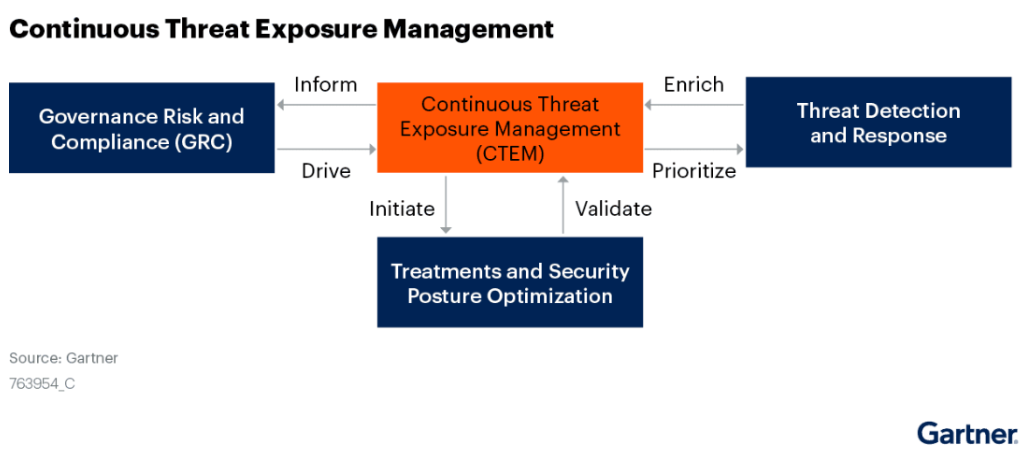 CTEM helps organizations proactively manage the impact of internal and external threats by identifying, assessing, and mitigating risks. This process includes:
Identifying critical assets that are most susceptible to cyber-attacks.

Assessing the likelihood that these assets could be attacked.

Mitigating the risk by implementing controls such as firewalls, intrusion detection systems, security policies, and other countermeasures.
Benefits of Implementing a CTEM Program in an Organization
CTEM programs are designed to address a company's and its employees' specific needs. These programs can be customized based on an organization's size, industry, and goals.
The following are some of the benefits of implementing a CTEM program in an organization:
Accelerated Employee Growth
Employees who participate in CTEM programs have reported accelerated growth in their careers. This is because skill sets are developed by applying best practices learned during training sessions, allowing individuals to grow more quickly than they would otherwise.
Reduced Skill Gaps
When you implement a CTEM program, there is less chance that your employees will have skill gaps that can lead to costly mistakes or lost productivity. This is because these programs help identify what skills employees need to advance in their careers and fill gaps between where they are now and where they want to go.
Enhanced Innovation Capability
CTEMs also help enhance innovation capability within organizations by providing new ideas for future growth strategies and opportunities for collaboration among team members outside of their functional areas of expertise.
Increased Resource Utilization
Employees who are engaged and motivated will be more likely to find ways to increase resource utilization. This can result in significant reductions in overhead costs and increased profitability.
Increased Productivity
A CTEM program will help you to increase productivity by providing your employees with the right tools, training, and resources. These can help them do their jobs better and faster, ultimately leading to increased productivity.
The Five Stages of a CTEM Program
The CTEM program is designed to be a flexible framework that can be adapted and modified to meet the needs of each organization. 
"By 2026, organizations prioritizing their security investments based on a continuous exposure management program will be three times less likely to suffer from a breach." Gartner
However, there are five key stages that most CTEM programs follow:
Scoping
The first step in any CTEM program is to scope out the project. This involves clearly defining the problem, collecting information about it, and developing a plan for addressing it.
Scoping can occur at any level of detail, from high-level strategic planning to detailed engineering work.
The benefit of a well-defined scope is that it guides how to proceed with the project so that everyone involved knows what's expected.
Discovery
In the discovery stage, you begin gathering all the information needed to complete the project, including stakeholder interviews, research studies, data collection and analysis, and more.
You're still working on an abstract scale and must deal with specific technologies or approaches.
You're just trying to understand the issues better by talking to people who might be affected by them (both directly and indirectly).
Prioritization
In this stage, you focus on identifying your top problems. This can be done by surveying employees or through statistical analysis.
Once you have identified your top problems, you must determine what level of improvement will be needed to resolve them.
Validation
Once you have identified your top problems, it is time to validate them.
In this stage, you should conduct some interviews with employees or hold focus groups to get their insight on whether or not these problems are negatively impacting the company.
You should also look at data about these problems, such as customer complaints or employee turnover rates.
Mobilization
Once your team has validated its top problems and determined what improvement needs to occur for them to be resolved, it's time to mobilize!
This means creating an action plan that outlines specific steps that need to take place for improvements to occur.
How Can Organizations Measure the Success of Their CTEM Program?
Organizations can measure the success of their Continuous Threat and Exposure Management (CTEM) program through various technical metrics and indicators. 
Here are some high-technical ways to measure CTEM program success:
Mean Time to Detect (MTTD):

Calculate the average time to detect new vulnerabilities, threats, or exposures in your environment. A lower MTTD indicates quicker detection and a more successful CTEM program.

Mean Time to Respond (MTTR):

Measure the average time it takes to respond to and remediate identified vulnerabilities or threats. A lower MTTR indicates efficient response and resolution.

Incident Response Time:

Track the time to respond to security incidents detected through the CTEM program. This metric can help evaluate the program's ability to handle real-time threats.

Vulnerability Remediation Rate:

Monitor the rate at which identified vulnerabilities are remediated. This can be expressed as a percentage and should ideally be high, indicating timely mitigation.

Risk Reduction:

Quantify the reduction in risk associated with vulnerabilities and exposures over time. Use risk scoring systems to assess the overall risk posture and measure how it improves due to CTEM activities.

False Positive Rate:

Calculate the percentage of alerts or detections that are false positives. A lower false positive rate suggests the program effectively reduces noise and focuses on genuine threats.

Coverage of Assets:

Measure the percentage of your organization's assets (e.g., servers, endpoints, applications) continuously monitored by the CTEM program. High asset coverage ensures comprehensive security.
3 Challenges on the Road to Meeting CTEM
Meeting the goals of a Continuous Threat and Exposure Management (CTEM) program can be accompanied by several high-tech challenges:
Data Integration and Correlation:

CTEM relies on data from various sources, such as threat intelligence feeds, asset inventories, network traffic analysis, and security tools. Integrating and correlating these diverse data sets in real time can be technically challenging. Data accuracy, consistency, and timeliness are crucial for effective threat detection and response.

Automation and Orchestration Complexity:

CTEM heavily depends on automation to promptly collect, analyze, and respond to threats and vulnerabilities. Developing and maintaining complex automation workflows, including playbooks for incident response and remediation, can be technically demanding. Ensuring these workflows adapt to changing threats and environments is an ongoing challenge.

Scalability and Performance:

As organizations grow or face increased cyber threats, the CTEM program must scale to handle a growing volume of data and security events. Ensuring the program's optimal performance, even under high loads, requires advanced technical solutions, including scalable infrastructure, distributed data processing, and efficient algorithms.
Final Words
The final takeaway here? CTEM is a viable and effective option to help you reduce your application security footprint and maintain control over your applications throughout the development lifecycle.
You should consider the benefits of CTEM when managing and mitigating risk to your organization. It can help minimize malicious activities against your organization, reduce the time required to assess and respond to threats and vulnerabilities and decrease resources and costs associated with security.