Digital learning provides a lot of advantages to learners and educators alike. However, all digital learning stakeholders must strengthen their online defenses to protect against new types of online attacks that keep emerging now and then. 
Why digital learning environment is a major target for cybercriminals?
The Global Threat Activity Tracker report by Microsoft shows that there were over 8 million malware attacks from July to August 2020. The online learning environment was the main target with 79.4%. This is something that should concern stakeholders in the e-learning environment. 
Amidst this backdrop of cybersecurity concerns, the resilience, and adaptability of the online learning sphere become even more paramount. Educational institutions and platforms must not only deliver quality content but also ensure the safeguarding of sensitive student data. 
It is also common for educational institutions to offer online cybersecurity courses. Such classes are held after school, which complicates the learning process for students. However, online courses are made of different components that are all important for success. They offer study materials, access to tutors, and exams. Part of exams include research paper writing. Students can use a research paper writing service to get their papers done in no time. It is an online resource focused on helping remote learners improve their course outcomes by writing quality papers for them.
This approach helps to reduce the level of malware penetration into the learning environment, but, unfortunately, cannot guarantee 100% security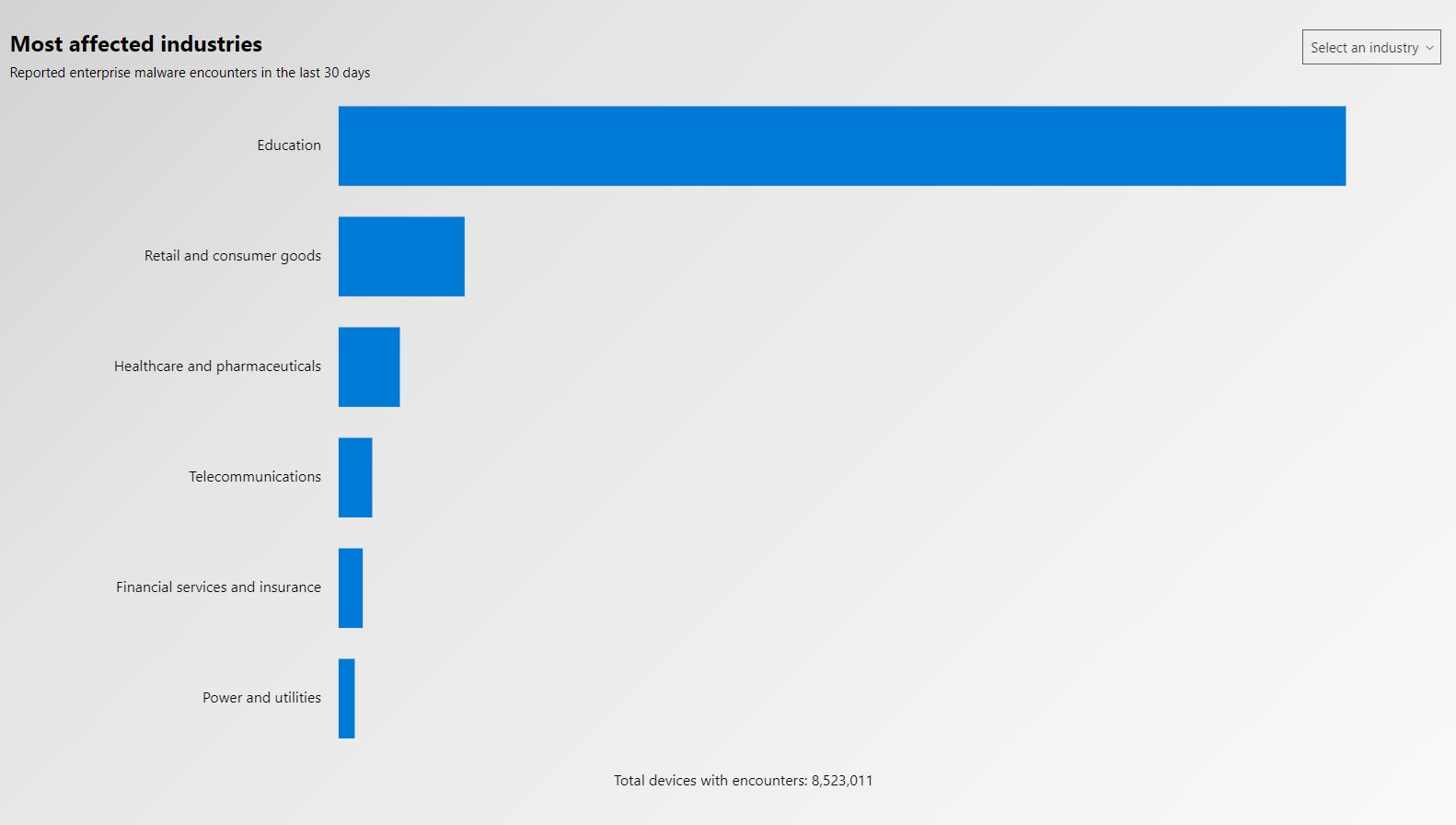 Figure 1-source-microsoft
A vast wealth of personal data
Remote learning platforms store their learner's data online. This includes such as:
Health insurance

Credit card data

Bank details

National identity details

Exam outcome details

Essays and many more
This amount of data is what online cybercriminals target. If they can get hold of it, they can sell it or use it to access bank accounts. It is worth millions of dollars in ransom. 
E-learning platforms get accessed the most
Millions of remote learners around the world are connected to their preferred universities online. They connect with online education platforms through different devices. Prosperity for America reports that 70% of university students prefer online learning. By 2027, the number of online learners is forecasted to reach 57 million. The report says 93% of companies globally pay for their workers to learn online.
As the demand for online education continues to soar, the need for custom e-learning software development becomes more apparent. Millions of remote learners around the world are connected to their preferred universities online, seeking tailored and engaging learning experiences. They connect with online education platforms through different devices, necessitating the creation of personalized e-learning solutions to cater to diverse learner needs.
The World Economic Forum reports over 20 million online learners registered in 2021. This proves that the online learning environment is one of the most accessible platforms worldwide using different devices most of which are unprotected.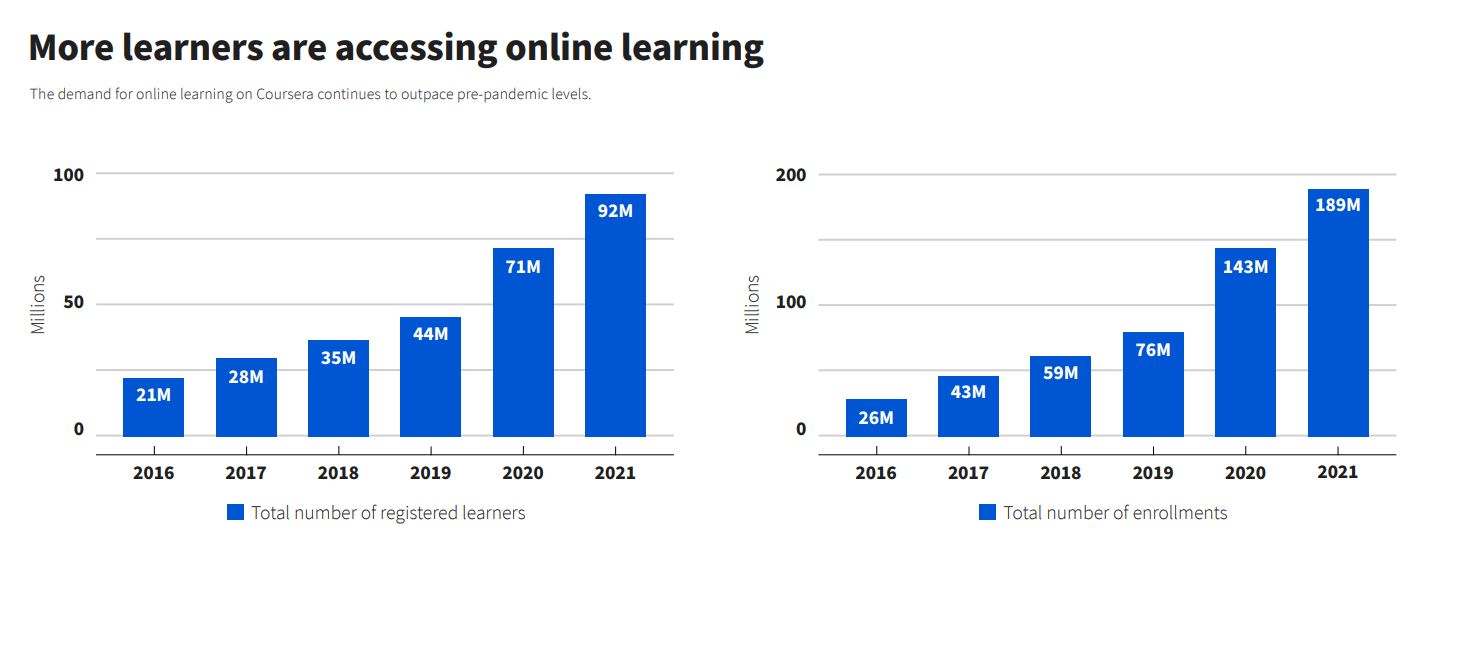 Figure 2-source.weforum
Higher institutions of learning may offer many types of remote learning courses however, they don't invest much in online safety. Due to this, they become an easy target for cybercriminals.
What types of threats does the digital learning environment face the most?
The remote learning sector has made education available to learners in the remotest places. There are threats unique to the teacher, student, and parent. It is important to be aware of the threats. 
Malware

: Learners download education apps for online study and courses. Cybercriminals install

malware

on their devices to extract data.

Identity theft

: Cybercriminals use extracted student information to access loans and services.

Malicious ads

: Ads contain malware links and code that executes once clicked.

Phishing:

Fraudulent messages that appear legitimate.

DDOS

: Cybercriminal sends too many requests that make remote servers hang. 

Ransomware

:

Ransomware

is the main type of attack that targets university, college, and online education resources systems. 

Data breaches

: Compromising passwords and exposing sensitive data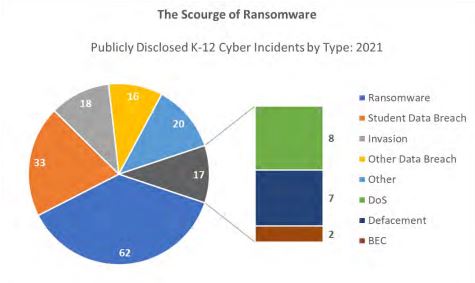 Figure 3-source-squarespace
Why does the online education sector need to prioritize cybersecurity?
Changes in technology are happening more quickly than before. A report by LinkedIn shows to date, there are 5 billion internet users. In the next 7 years, there will be 50 billion internet devices helping with sharing data. Statistics show the increase of technology multiplies by 2 times every 11/2 years. 
The remote education sector is highly vulnerable to cyberattacks with a frightening percentage of attacks targeting this sector. Remote learning platforms experience different types of data breaches daily with most users being young students who are not conversant with cybersecurity protocols. This makes Cybersecurity imperative in remote learning. 
They are curious and want to try out different things. In the process of trying out, they open malicious links and compromise passwords, download dangerous apps, and sign up for scam sites. 
Introducing Cybersecurity to e-learning environments can help online education systems in:
Enhancing trust

. If there are more security breaches, online platforms might lose trust. Increased security measures increase trust among users.
Keeping the remote learning environment safe

. Online education startups work closely with programmers, SaaS platforms, and IT experts. They need marketing agencies to market their platforms. They need students and tutors to keep business thriving. The entire online environment needs to be kept safe. It is the responsibility of every stakeholder to play their part. 
Meeting compliance and data privacy requirements

. Remote learning platforms need to meet the FERPA, FOIA, and GDPR compliance guidelines.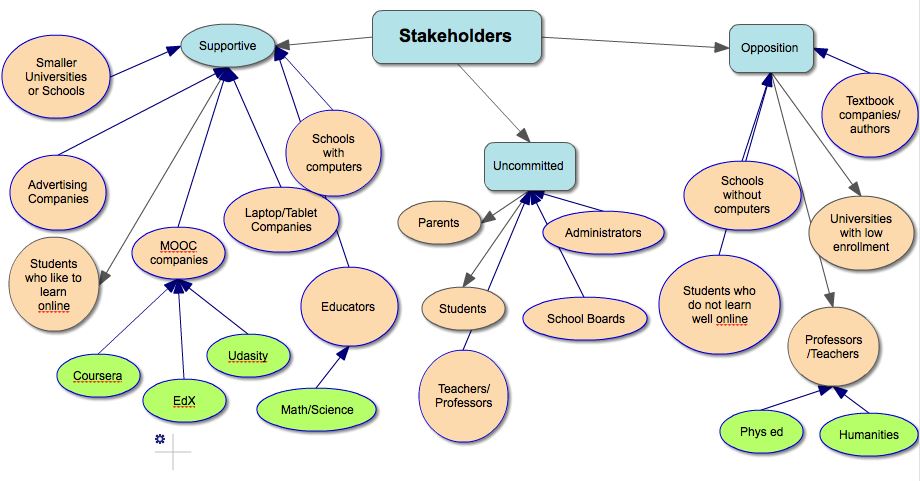 Figure 5-source-moocineducation
Steps to prevent cybersecurity attacks
E-learning system administrators need to take precautions to prevent attacks so that if breaches do happen, they should be ready to prevent further damage. 
Keep user privileges under control
A student may sign up online for one online lesson and leave the website or enroll for a short course and leave. Once a user completes their course, they should be denied user privileges while current users should be offered controlled privileges. 
Use the latest online security enhancement methods
Cybersecurity specialists create strong online protection tools to keep data safe. Online education systems need tools such as:
Network safety monitors

Data encryptions

Internet vulnerability scanners

Penetration testers

Antivirus tools

Network system defenses

Computer firewall
Manage passwords well
Create hard-to-guess logins and manage them well. You can use password management tools to help remember them. 
Understand local and international cybersecurity guidelines
Different cybersecurity guidelines apply at different levels. Understand them and follow them. 
Keep physical gadgets secure 
Use features such as a lock screen and biometrics to authorize access to devices. Unauthorized access can lead to data breaches.
Have a disaster recovery plan in place
If attacks happen, e-learning companies should be ready to take control. It helps to keep the platform running while keeping users safe. The e-learning platform should pay attention to the following points. 
Keep the e-education platform safe. Prevent further attacks on the platform and users

Act fast. Do not postpone taking mitigation measures later but do it immediately

Ensure there is a backup system in place. Backup systems help keep data safe.
Offer training to students
Students are the most vulnerable when it comes to cybersecurity. Educate them on matters of online safety and their role by helping them understand the importance of data security, password safety, and the risks of opening untrusted links, attachments, and email spam. 
Conclusion
Remote education has helped deliver courses to learners regardless of their location. It offers a convenient way of acquiring knowledge at the learner's convenience. However, entrepreneurs, marketers, and programmers in the online education field need to work on improving the online security of e-learning platforms. 
Schools, educators, and learners need to use innovative methods that improve security while IT specialists in the online education sector have a role to play in keeping education online systems secure. They must ensure the systems remain flexible with high mobility and safety.