Choosing the best DMARC software solution for your online business can be a challenging task. To be recognized as the best DMARC solution in the market, it needs to be a robust and reliable framework for your organization, providing you with a high ROI with noticeable improvements in your email security infrastructure.
DMARC Solutions for Email Fraud Prevention
Domain-based Message Authentication, Reporting, and Conformance is a widely recognized, recommended, and supported email authentication protocol in recent times. A DMARC solution can help small businesses, as well as multinational enterprises, mitigate impersonation, email spoofing attacks, Business Email Compromise, and fraudulent emails with an automated and effortless approach toward protocol implementation, management, and monitoring.
DMARC uses two of the standard protocols in the arena of email authentication, namely SPF (Sender Policy Framework) and DKIM (DomainKeys Identified Mail). DMARC solutions can help validate emails sent from business domains for authenticity and empower organizations to track, detect, and mitigate email-based attacks and security breaches by providing advanced monitoring features and analytics.
When selecting the best DMARC software solution for your business, you need to look for a few basic and advanced features that the solution must include!
The Benefits of Investing in a DMARC Software Solution
Investing in a good DMARC solution designed by a trusted company can be extremely rewarding from a security standpoint. Continuous attacks on your domain name can with time weaken your brand reputation and email's credibility, leading you to lose both customers and financial assets. 
Short-term benefits of a DMARC solution: 
Enhanced insight into domain and email activity with detailed reporting 

Protection against malicious emails, email phishing, domain spoofing, email impersonation, and email fraud.

A highly scalable platform built to secure hundreds of domains
Long-term benefits: 
Improved email delivery rate

Improved email reputation

Retained brand trust and customers
Top DMARC Solution Features to Look Out For 
When looking for a suitable DMARC software solution for your business, here are the top features you should consider:
1. A User-Friendly Cloud-Native Dashboard
A user-friendly and intuitive dashboard, that is also cloud-native is a primary feature to look for when choosing a good DMARC solution. This will offer you complete visibility into your email ecosystem, with services that are highly scalable and compatible with your existing email security setup – without causing any disruption in your mail flows.
2. Simplified Aggregate Reporting and Encrypted Forensics
It is indispensable that your DMARC solution has an extensive reporting mechanism. Aggregate and Forensic reports are both imperative to monitor threats and configure authentication protocols.
Detailed DMARC aggregate reports are generated in an XML file format. To a non-technical person, these reports may appear hard to decipher. The best DMARC software solution for your organization will convert these incomprehensible aggregate reports from complex XML files into information you can easily understand that allows you to analyze your results and make the needed changes.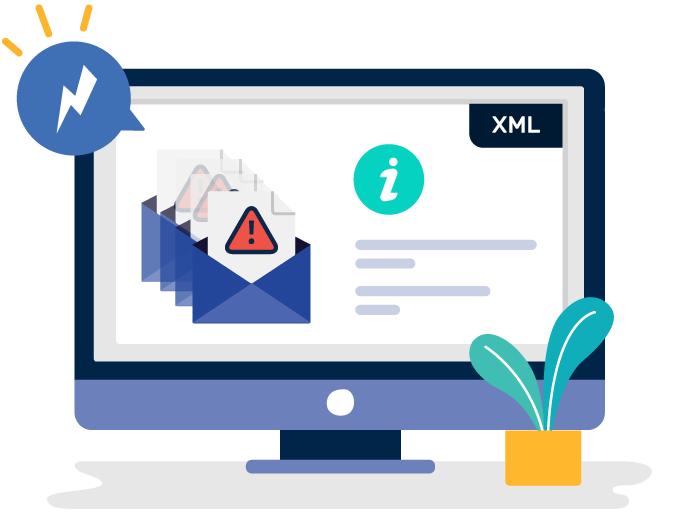 Forensic reports provide valuable insight into your email domain's vulnerabilities, which are generated every time an email sent from your domain fails DMARC. They dispense detailed information about individual emails that failed authentication to detect spoofing attempts at a speedy pace.
In some cases, Forensic reports might potentially include confidential information. This is why when selecting the best DMARC software solution for your business, you should choose a service provider that values your privacy and lets you encrypt the reports so that only authorized users have access to them.
4. Advanced Monitoring Services 
To achieve 100% DMARC compliance on your emails you need an advanced monitoring service integrated into your DMARC solution that is easy to set up and use. The solution must highlight your sending sources, domains, IP addresses, and domain activities effectively on an interactive dashboard, along with SPF, DKIM, and DMARC alignment results. Customized alerts sent to your email address whenever there is a reason for concern, is an added advantage to look out for. 
Monitoring your email authentication with the help of a DMARC solution ensures that your legitimate emails don't get rejected by your recipient's mail servers and also helps mitigate authentication issues faster. Insights can help prevent major data breaches and phishing attacks by equipping you with the information you need to stay vigilant and protected. 
5. Optimized SPF Management 
SPF DNS records have a limit of 10 DNS lookups. If your organization has a wide base of operations or you rely on third-party email service providers to send emails on your behalf, your SPF record could easily exceed the DNS lookup limit and return permerror.
This invalidates your SPF implementation and makes your emails inevitably fail SPF. This is why you should search for a solution that helps you instantly optimize your SPF record and mitigate SPF errors!
6. An Interactive and Efficient Setup Wizard
when choosing the best DMARC software solution for your organization, one should not forget the setup process. An interactive and efficient setup wizard that is designed with simplicity and ease of use in mind, taking you through the process of entering your domain name to setting your DMARC policy to generating your own DMARC record in a synchronized and methodical way, is the need of the hour! It will help you get settled down seamlessly, and understand all the settings and functionalities on your dashboard within the least possible time.
7. Scheduling Executive PDF Reports

With an effective DMARC solution for your organization, you can convert your DMARC reports into convenient PDF easily readable documents that can be shared with your whole team. Depending on your needs, you can have them scheduled to be sent to your email regularly or simply generate them on demand.
8. Hosted Email Authentication Software Solutions
Hosted email security features that perfectly authenticate email traffic to verify the legitimacy of emails and identify even sophisticated email threats, are the need of the hour. This should include hosted DMARC, SPF, DKIM, BIMI, MTA-STS, and TLS-RPT. An efficient DMARC software solutions provider can hook you up with the latest technologies concerning protocol implementation which can work in unison to enhance your brand recall and uphold your reputation and integrity.
10. AI and Threat Intelligence
For enhanced visibility and insight, what you need is an AI-driven Threat Intelligence (TI) engine that actively roots out suspicious IP addresses, checking them against a live, updated blacklist of known abusers so you can have them taken down. This will armor you against malicious activities and repeated occurrences of domain abuse in the future.
11. A Proactive Support Team
When implementing DMARC at your organization and generating aggregate reports, what you need is a proactive team of experts and specialists, available round-the-clock to help you mitigate issues in configuration even after onboarding, throughout the time you are availing of their services.
The Best DMARC Software in the market: PowerDMARC
PowerDMARC is recognized by more than 1000 customers and 600 channel partners as a top DMARC solution. It is a single platform that is effective enough to help you shift from monitoring to DMARC enforcement and gain 100% DMARC compliance on your monthly email volume in the least amount of time. Our advanced DMARC software solution will aid you in configuring your domain, DMARC policy, and aggregate reports and help you gain complete visibility into your email ecosystem at the earliest. 
PowerDMARC is your one-stop destination for the ultimate email security suite, and here's why: 
Detailed yet simple reporting services to scale reporting for even enterprise-level organizations operating multiple domains and thousands of emails per day, along with advanced report analysis with

DMARC report analyzer

360-degree visibility into your email network, email validation services, unauthorized senders, legitimate sources, and more

Encrypted Forensic Reporting

Email authentication monitoring tools designed to detect and prevent fraudulent activities on your own domains 

World-class automation tools for your domain's security including a record setup wizard, making it effortless to configure and manage your email's authentication

Cloud-based platform designed to support unlimited users and message volume for larger organizations, as well as SMEs

Address deliverability issues at the sender level

Pay-as-you-go system with no hidden additional costs

Send compliant emails to potential customers and improve email deliverability

Free trial available with access to all features for 15 full days 
When choosing a DMARC solution for your organization, it is important to confide in a service provider who offers premium technology at reasonable rates. Sign up to get your hosted DMARC trial today with PowerDMARC!