Are you aware of the recent email phishing tactics cybercriminals have been using to lure in victims? Yes, that's right, it has everything to do with the newly discovered COVID-19 Omicron variant that is sweeping through the world currently.
It has been 2 years since the COVID-19 global pandemic took the world by storm, and since then businesses have been learning to adapt to the change. Email communications, which was once an afterthought, have now become the basis of life. A recent survey found that the number of email users worldwide has been evaluated to have reached 4.3 Billion in 2022. This means evolved phishing tactics and email scams, and greater risks at business email compromise.
How are cybercriminals phishing users in 2022?
Throughout the ongoing global pandemic, ever since it first broke out, scammers haven't rested. They have been constantly coming up with new and evolved tactics to lure in victims more easily and effectively. This time around, as soon as news broke about the newly found Omicron-variant that has been making its way around the world and spreading like wildfire, scammers wasted no time in using it as a phishing tool.
Attackers are impersonating governmental and public-health services organizations such as the NHS, to send out fake emails offering victims a free Omicron PCR test. These emails are carefully crafted to look and feel genuine, providing victims with apparently useful information that makes the message believable, thereby making the phishing lure more effective! Thousands of Gmail users and UK citizens have reported various such attempted attacks, the frequency of which is only rising.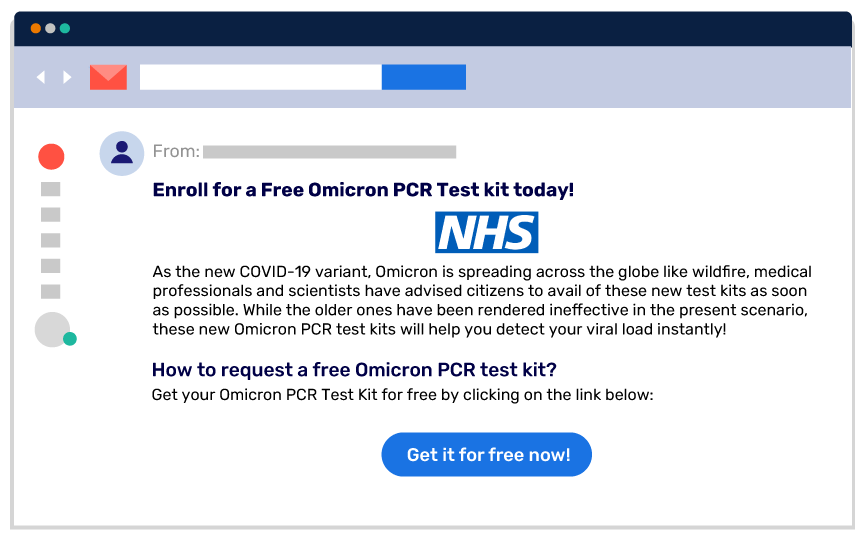 By clicking on the phishing link mentioned at the end of the email, users are being redirected to a spoofed landing page. This page appears very similar to an original website belonging to any well-known public-health service organization. Herein victims are asked for personal information like their name, email address, mobile number, address, and date of birth along with a test kit delivery charge. On occasions, sensitive information has also been demanded that may allow attackers to bypass security gateways on banking websites to strip victims off of their money.
Preventing Phishing in 2022: Here's what you should know!
It is important to note that no public-health service or governmental health service organization is currently providing PCR tests for Omicron. Hence any email claiming the same is a fake email aimed at tricking you.
Moreover, never submit sensitive information that can be used against you on a website unless you are 100% sure of its legitimacy.
How to become more proactive regarding phishing?
The Healthcare sector continues to be one the most impersonated organizations as we progress into 2022. The CISA has recommended DMARC as an effective measure and a healthy practice for organizations who want to take proactive initiatives against email fraud attacks. To break the myth surrounding this protocol stating that it's hard to implement, you can now generate DMARC record instantly with our tool!
DMARC is a protocol that helps authenticate your emails by aligning them with SPF and/or DKIM, giving domain owners the opportunity to block phishing emails from reaching their customers and employees. DMARC reporting is a technique internal to the protocol itself, that provides domain owners with a wealth of information regarding attempted cyber attacks, failed email deliveries, and other issues pertaining to their emails. It is an all-in-one solution that is the answer to all your email security concerns.
If you're a healthcare organization looking for a reliable DMARC software solution to prevent scammers from impersonating your domain, create a DMARC record today! If you want to try it out without spending a dime, here's how you get free DMARC for your domains.