Exceptional executive phishing attacks are one of the most effective and cost-effective ways to breach a company's security. Executives can be lured in by email or phone calls, but the result is almost always the same.
An executive phishing attack is a big worry for all sorts of companies. It's a major reason organizations lost over $43 billion (USD) from 2016 to 2021.
In this article, we will discuss executive phishing definition, why it is such a threat, and how to avoid becoming the next victim.
What is Executive Phishing?
Executive phishing is a cybercrime that targets high-level executives and other senior decision-makers like the CEO, CFO, and high-ranking executives. The executive's name, email signature, and other details are often used during the phishing attack to make the message seem legitimate.
In 2020, cyber crimes like CEO fraud and ransomware cost over $4.1 billion, with reported cases rising by 69% from 2019 to 2020, reaching over 791,000. Sadly, these cyber threats aren't slowing down; they're worsening.
It's designed to trick the victim into thinking they are receiving an email from someone in their organization or another trusted source.
Executive phishing attacks usually involve a well-crafted email from an employee within your organization but could also include an email from someone outside your organization. 
The emails often contain information about an upcoming meeting, such as the agenda or an upcoming contract.

The attacker may also attempt to access confidential data stored on the corporate network by posing as a trusted employee with access to sensitive information.
Executive phishing aims to steal confidential data such as passwords, sensitive documents, and login credentials. The attacker will then use these stolen credentials to access corporate resources and gain access to sensitive information.
Related Read: What is a Phishing Email?
Why Phishing Attacks Target Executives?
Targeting executives allows hackers to access valuable information that could be sold on the Dark Web or used as blackmail against the victim's company.
Because C-level executives typically have access to sensitive data such as financial data, personally identifiable information (PII), and other confidential business documents, they can become prime targets for phishing attacks aiming to obtain this data by any means necessary.
Executive Phishing Attack Example
An example of an executive phishing email can be seen in the following image: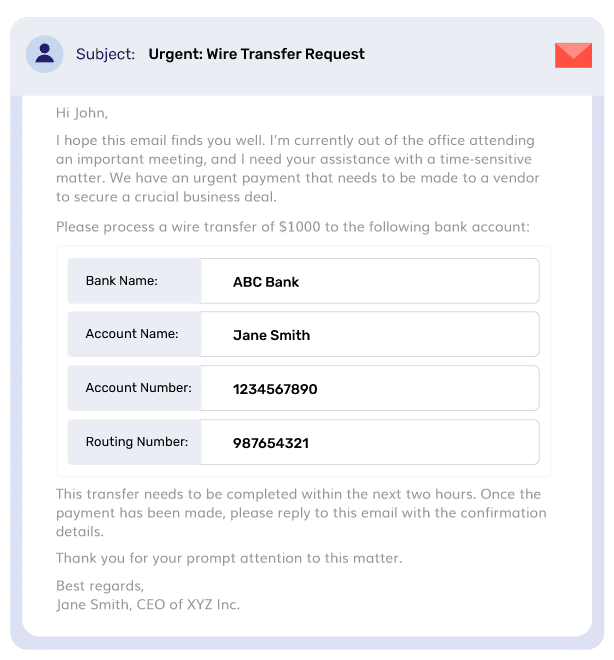 Major Types of Executive Phishing Attacks
The following are some of the major types of executive phishing attacks:
Business Email Compromise (BEC) Attacks
BEC attacks target CEOs and other senior officials by impersonating their emails and requesting money transfers.
BEC attacker will send fraudulent emails with fake company logos and spoofed sender addresses to trick the recipient into believing they are real.
Invoicing Attacks
This attack aims to steal money from companies by creating fake invoices that appear legitimate but contain errors or discrepancies.
The attacker will then request payment on these invoices using bank wire transfers or other payment methods that take time to verify.
Video Communication Platforms Exploitation
In this attack, the hacker exploits a video communication platform to impersonate the executive. For example, they could use Google Hangouts to impersonate the CEO and ask for confidential information.
The hacker may also email the employees indicating they will meet with someone from finance on a video call. They instruct them to download an app and enter their login details.
Social Engineering
Social Engineering is used to access sensitive information or data by tricking users into divulging passwords, Social Security numbers, and other sensitive information.
The attacker often pretends to be from IT or another department within your organization and asks for access to your computer or network resources when normal business practices do not warrant this request.
Executive Phishing vs Whaling
Remember that both Executive Phishing and Whaling are cyberattacks aimed at high-level personnel, with Whaling being a more specialized variant. Proper cybersecurity measures and employee training are crucial for defense against these threats.
Let's have a look at executive phishing vs whaling:
| | | |
| --- | --- | --- |
| Aspect | Executive Phishing | Whaling |
| Target | Executive phishing targets high-ranking executives within a company. | Whaling focuses on top-level executives, such as CEOs and CFOs. |
| Objective | Executive phishing aims to gain unauthorized access, steal data, or acquire login credentials. | Whaling aims to extract sensitive information or funds from high-profile executives. |
| Attack Type | Executive phishing is a phishing attack that specifically tricks executives into taking action. | Whaling is a specialized spear phishing, targeting the most influential individuals. |
| Impersonation | In executive phishing, attackers impersonate a senior executive or colleague to deceive the target. | Whaling involves impersonating senior executives to exploit their high-level authority. |
| Preparation | Attackers researching the target's role, communication style, and relevant information is common in executive phishing. | Whaling perpetrators conduct thorough research on the target executive and the company environment. |
| Email Content | Executive phishing emails mimic official communication. Often creating a sense of urgency or addressing sensitive matters. | Whaling emails contain customized and personalized Messages tailored to the target's position and responsibilities. |
| Social Engineering | Executive phishing exploits power dynamics, urgency, or curiosity to manipulate targets into taking action. | Whaling leverages high-level access and authority to manipulate the target's trust and compliance. |
| Payload | In executive phishing, malicious links, attachments, or requests for information are common payloads. | Whaling payloads often seek confidential data, financial transactions, or other valuable assets. |
| Impact | The impact of executive phishing can range from compromised accounts and data breaches to financial loss. | Whaling's impact can be significant, leading to substantial financial and reputational damage for organizations. |
| Countermeasures | Countermeasures against executive phishing include employee training, use of anti-phishing tools, and vigilant email practices. | Defending against whaling involves security awareness training, advanced threat detection, and strong authentication methods. |
| Examples | Examples of executive phishing include fake requests for money transfers or data sharing sent to executives. | Whaling involves sending targeted emails to high-level executives, often with malicious intent or deceitful requests. |
Related Read: Whaling Phishing vs. Regular Phishing
Defense and Mitigations for Executive Phishing Attacks
The following security measures can help protect your organization from executive phishing:
DMARC Implementation
DMARC enables organizations to report how their domains are being used and help ISPs and other email providers take appropriate action when they see fraudulent messages from those domains.
Security Awareness Training
Security awareness training will help employees identify potential threats before they become an issue. 
Security awareness training teaches people how to identify suspicious emails based on their content, sender, and subject line. It also teaches employees how to report these emails so they don't fall victim to an attack.
Multi-Factor Authentication (MFA)
Multi-factor authentication (MFA) adds another layer of security by requiring users to enter a code sent to their phones or generated by a physical device before gaining access.
Email Filtering and Anti-Phishing Tools
The first line of defense is to use email filtering software to filter out phishing emails. This software allows users to define what email addresses should be considered suspicious and automatically rejects them.
Additionally, it can also be used to identify legitimate emails that are being spoofed and automatically reject those, as well as any attachments that might be malicious.
Related Read: Difference between Anti-Spam and DMARC 
Regular Software Updates and Patch Management
Ensure all software is up-to-date, especially browsers, operating systems, and third-party applications. This includes both physical and virtual machines.
Patches often include security fixes for vulnerabilities that could be exploited by attackers who have already compromised a system.
Final Words
While not the most common form of phishing, this type of attack can still impact individuals and businesses negatively. If you receive messages from people you don't know or about situations that don't seem immediately real, don't be hasty to open the files they send.
You could very well be falling victim to an executive phishing attack, and if that's the case, you should follow our tips to protect yourself.