Sometimes we find ourselves wanting to forward an email. However, we don't know how to do it. Let's be honest — forwarding an email can be confusing! All the crazy formatting and weird acronyms are just a bunch of buzzwords to most of us. There are several places in your inbox where you will not find the "Forward" button. If you want to learn how to forward an email, then this post is for you. 
We are also going to get into how email forwarding affects your authentication headers, specifically- DMARC, SPF and DKIM. So let's get started! 
What Is Forwarding Email and How Does It Work?
Mail forwarding is a service that allows you to receive mail at an address other than your permanent one. You can use it if you are moving temporarily, traveling, or in any other situation where you will not be home for some time.
The most common reason for mail forwarding is that people move often and don't want to waste time updating their addresses with every credit card company, bank, or government agency. It's also useful for seasonal residents who live in colder climates but want to keep their Florida or California homes active during the winter months, for example.
How Does EMail Forwarding Work?
A mail forwarding business will accept any incoming mail addressed to you on your behalf at their mailbox location rather than having it delivered to your former address. All of the received mail will be scanned and uploaded by their staff to your virtual mailbox. The option to forward mail to a different address is now available.
Make sure your mail redirection location is accessible upon request if you plan to use a USPS forwarding address.
However, you can think about using a business address for LLC if the idea of having your home address as a forwarding address makes you uneasy.
Ways of Email Forwarding
Email Forwarding Gmail
Gmail offers both manual and automatic forwarding options for email messages. 
Although we'll utilize a PC interface, the Gmail mobile app follows a similar process.
Process of Email Forwarding Gmail Manually
Enter your Gmail login information, go to the menu bar, and select Inbox.

Locate and open the email that you want to forward.

Press the Forward button, and here you go!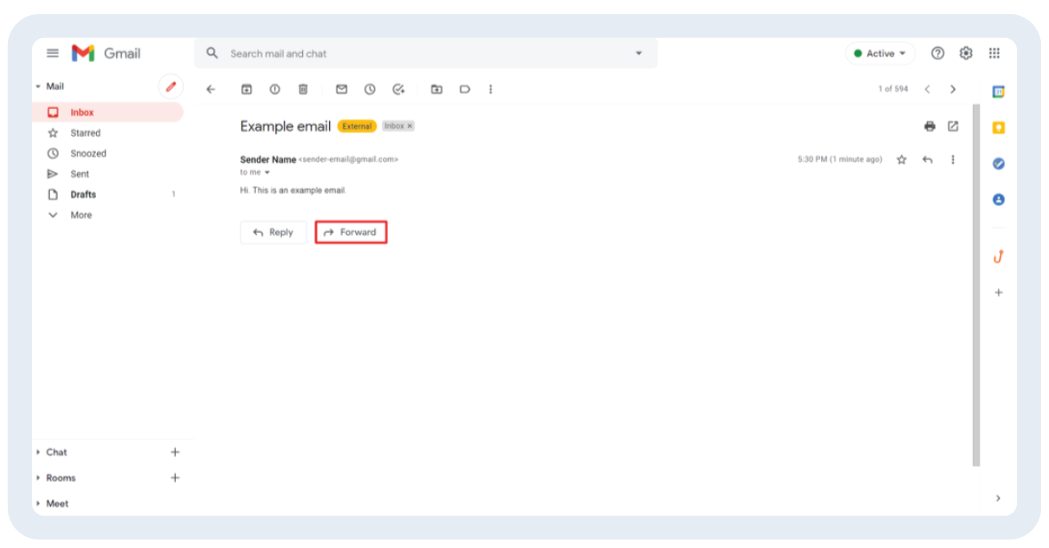 In the

To

area, type the recipient's email address. Use commas to divide multiple addresses if you want to add more than one.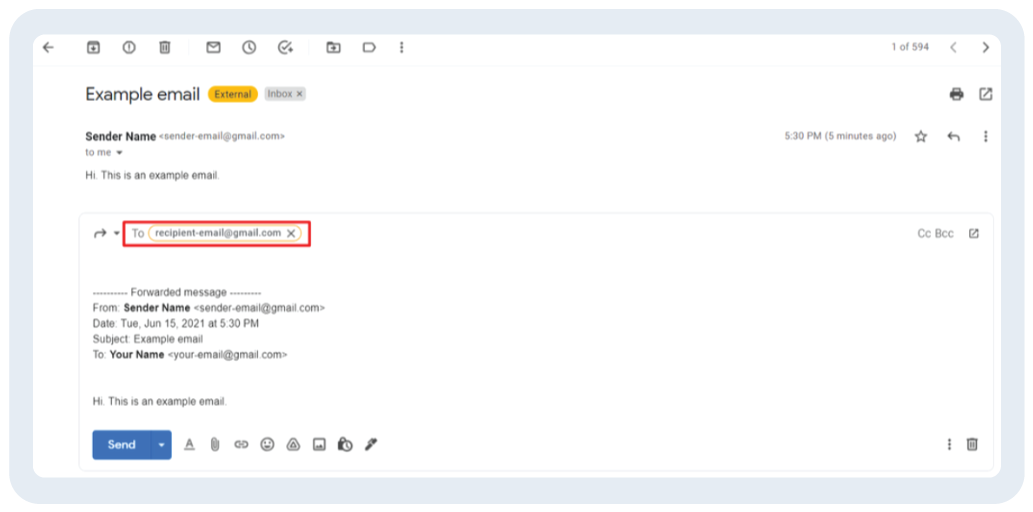 Selecting the appropriate option can add

Cc (carbon copy)

and

Bcc (blind carbon copy)

recipients.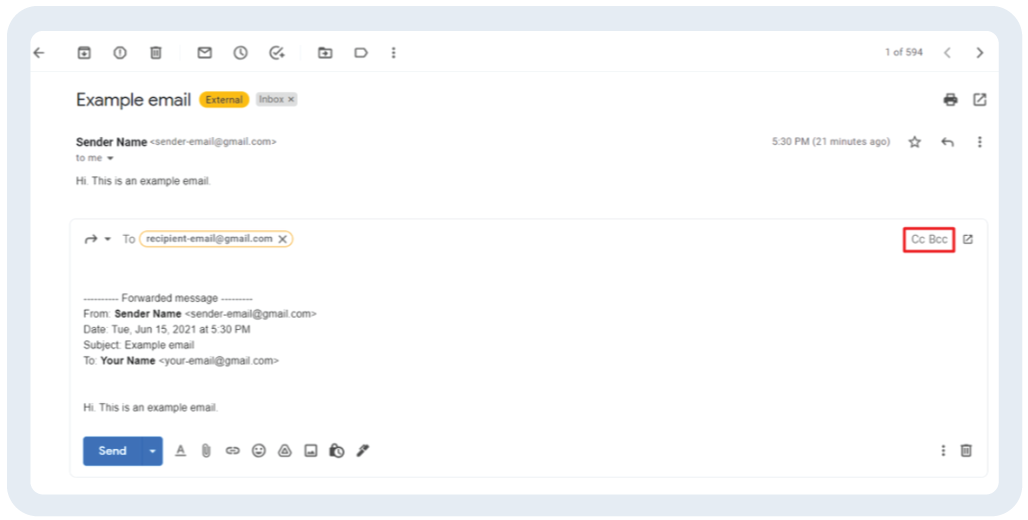 The list of email addresses linked to the email you forward is visible to both the

To

and

Cc recipients

.

Bcc recipients

can't see the list right now.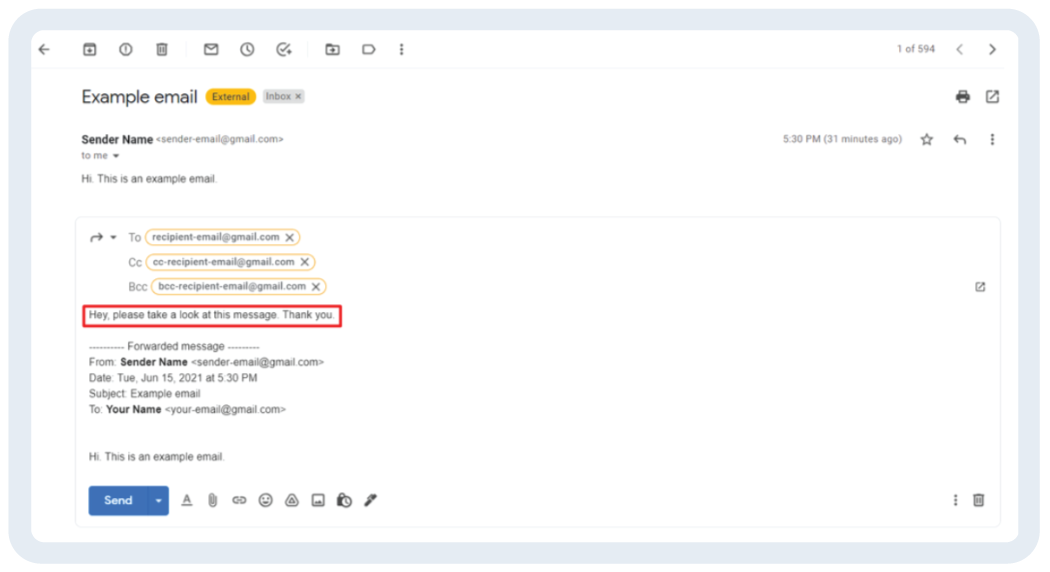 If you must add a message above the forwarded email, type it above the text Forwarded message in the email body.

Click the x button next to the attachment if the message you want to forward has one and you want to get rid of it. On the other hand, click the Attach files icon if you wish to add a new attachment.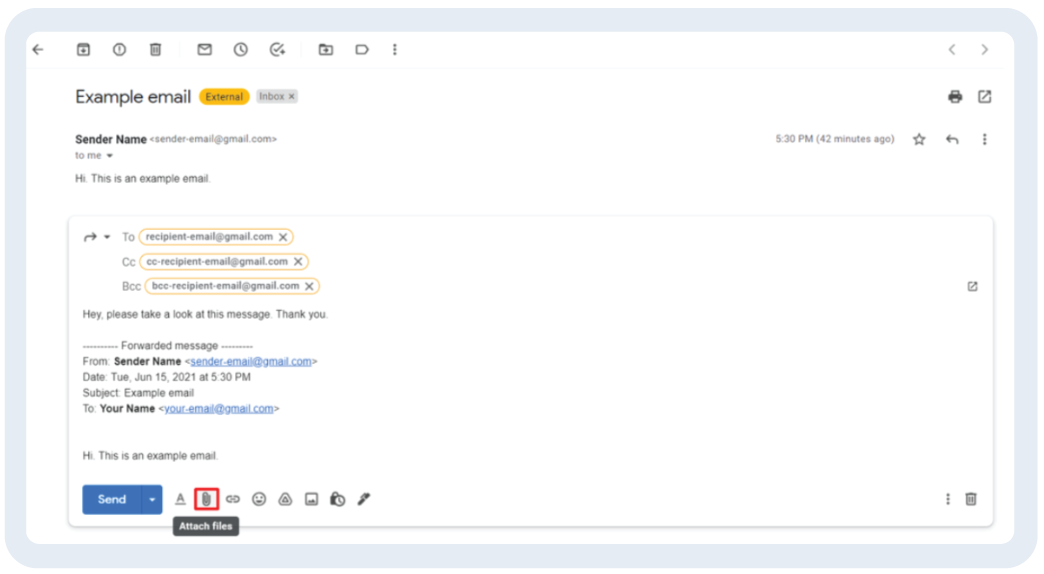 Click the Send button once you've completed modifying the message.
Automatic Email Forwarding
By following the steps below, you can configure your Gmail account to forward many emails to another email address. However, bear in mind that this automatic email forwarding technique is computer-specific.
Select the

Settings

gear icon in the top right corner of the page while your

Gmail inbox

is open.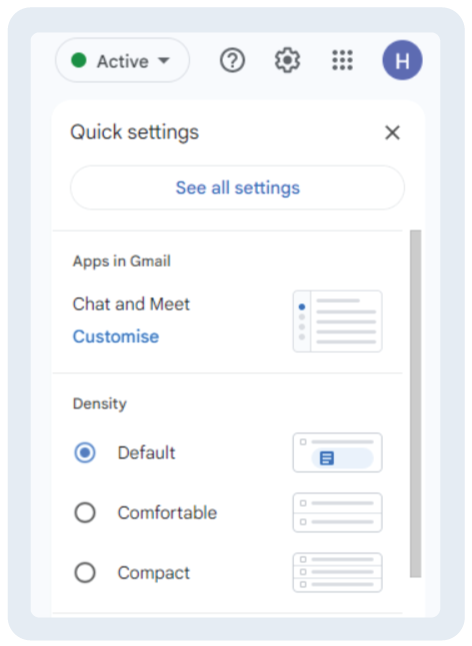 Go to the

POP/IMAP and Forwarding

tab. Click

Add Forwarding Address

after that.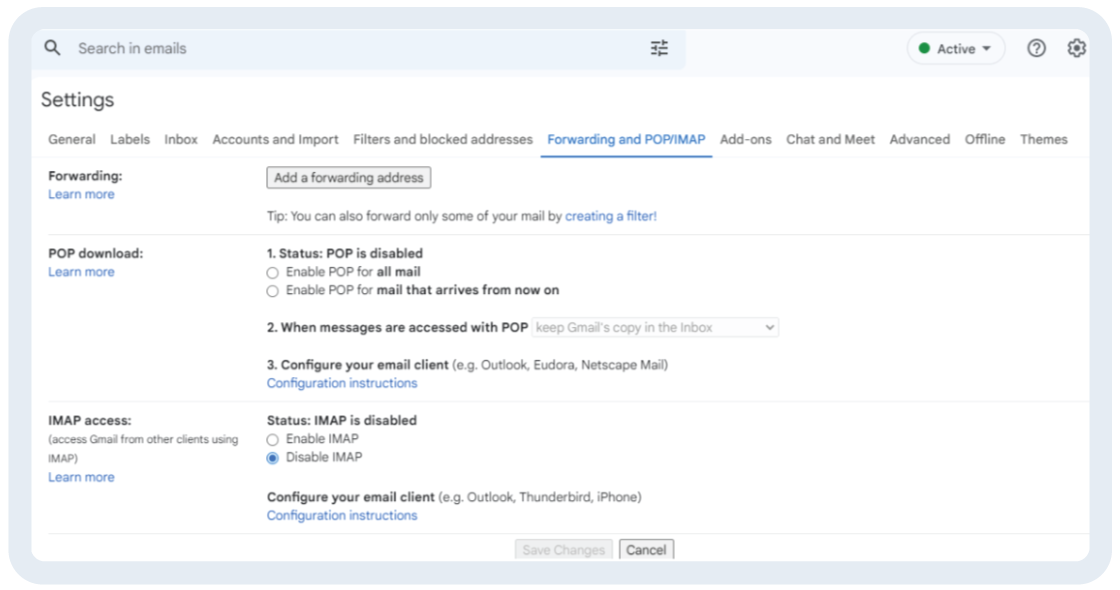 Click

Next

after entering the forwarding email address.
An additional window will open. Verify the forwarding address is accurate before clicking Proceed.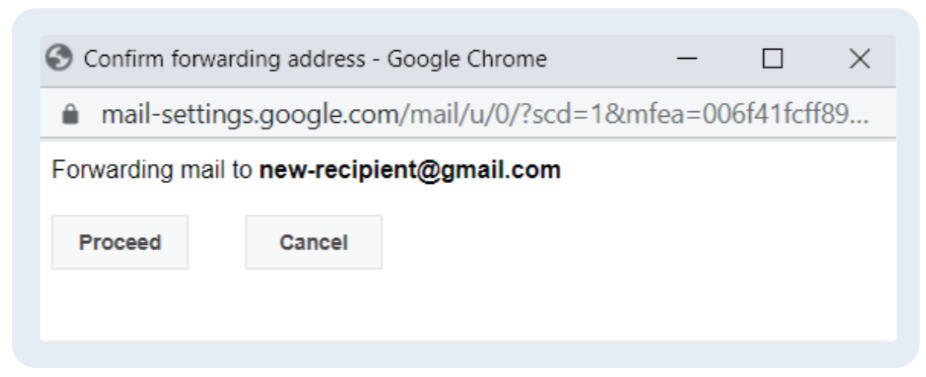 Your mailbox will get a verification email from Gmail. To verify, click the link or enter the code as directed.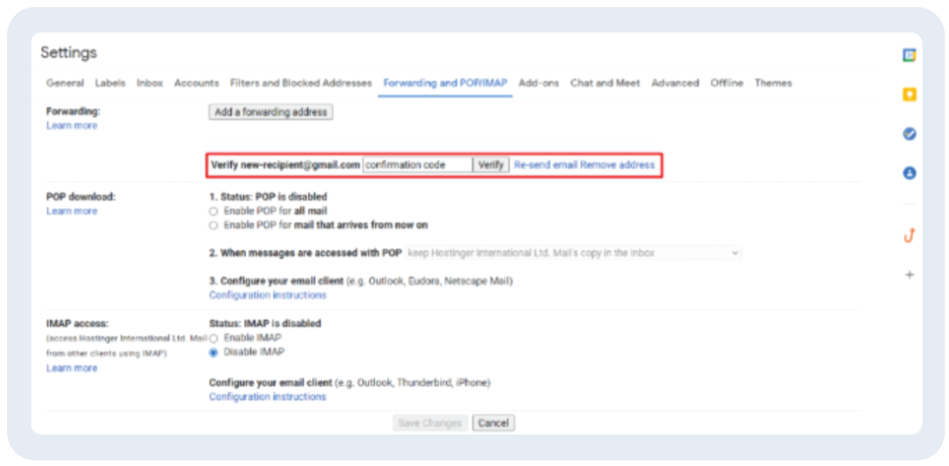 All new emails will now be forwarded automatically by Gmail to your specified address. Click Disable forwarding to end the transmission.
Outlook Email Forwarding
Additionally, Outlook offers both manual and automatic email forwarding. The processes will be demonstrated using the web app, but they are the same for the mobile app.
Go to your inbox folder after signing into your Outlook account on the web application.

Find the message you want to forward, then open it.

The email's content will show up in the reading pane. Select the Forward button to proceed.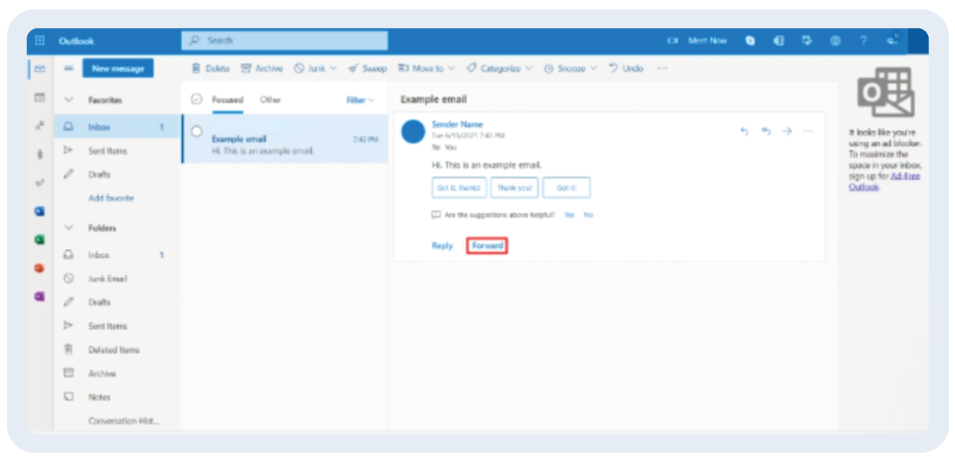 At the top, enter the recipient's email address. Using commas, multiple addresses can be separated in the

To, Cc, or Bcc sections

. Add a message to the email's original content to provide further context or clarification.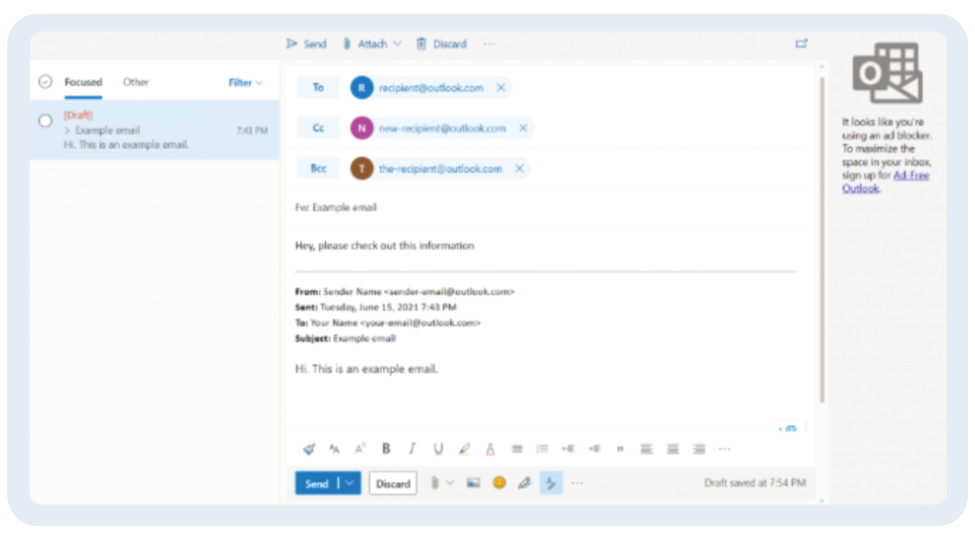 When finished, press the

Send

button.
Mail Forwarding and Email Authentication
Mail forwarding can have an impact on email authentication results because it changes the way that emails are routed and processed by email servers.
Email authentication is the process of verifying that an email message actually came from the sender it claims to have come from. This is done using various authentication protocols such as SPF, DKIM, and DMARC.
When an email is forwarded, it is essentially being sent from a new sender, which can cause problems for email authentication. If the original sender has implemented SPF or DKIM authentication, the forwarding server may not be authorized to send on behalf of that sender. This can cause the email to fail SPF or DKIM checks and be marked as potentially fraudulent or spam.
To avoid these issues, some forwarding services may modify the email headers to indicate that the message was forwarded, and to preserve the original sender's authentication information. However, not all forwarding services do this, and even when they do, some email servers may still treat forwarded messages with suspicion.
In general, if you rely on email authentication for your email marketing or other email-based activities, it's important to be aware of the potential impact of mail forwarding on your email deliverability and reputation. You may need to take steps such as using a trusted forwarding service, modifying your email headers, or adjusting your DMARC policy to account for forwarded messages.
How can you avoid this? 
ARC (Authenticated Received Chain) is an email authentication protocol designed to help address the issue of email authentication failures caused by forwarding. Email ARC enables the preservation of email authentication results across a forwarding chain, allowing the original sender's authentication to be trusted even after the message has been forwarded.
Here's how ARC works:
When an email is sent, it's authenticated using standard authentication protocols like SPF, DKIM, and DMARC.
If the email is forwarded by an intermediary email server, the original authentication results may be lost or invalidated.
To prevent this, the intermediary server can add an ARC header to the email message. This header contains cryptographic signatures that verify the authenticity of the email and preserve the original authentication results.
When the email reaches the final recipient, their email server can use the ARC header to verify the authenticity of the email and determine whether it should be delivered to the recipient's inbox or marked as spam.
By preserving the original authentication results, ARC helps prevent email authentication failures caused by forwarding. This is particularly important for organizations that rely on email authentication for security or compliance purposes, as it ensures that their messages are delivered securely and reliably, even when they're forwarded through multiple email servers.
Final Words
It all comes down to planning and preparation. While seemingly complex and difficult, mail forwarding is straightforward if you take the right steps when you approach the process. It's all about knowing your options regarding mail forwarding and making the best use of those options. Doing so can be challenging, so we've outlined key considerations to keep in mind as you begin this journey. We hope these guidelines help demystify the mail forwarding process and provide some peace of mind along the way.