In a world where cyber threats are becoming increasingly sophisticated, the importance of robust cybersecurity measures cannot be overstated. Among these measures, DMARC (Domain-based Message Authentication, Reporting, and Conformance) has emerged as a vital tool in combating email-based attacks and protecting organizations from potential breaches. In recognition of its exceptional contributions in this realm, we at PowerDMARC are pleased to receive the Stellastra Award for Best DMARC Company in Summer 2023.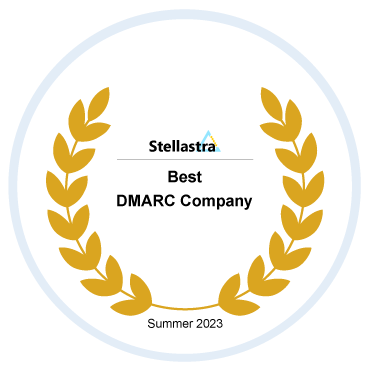 Stellastra conducted an extensive evaluation of tens of thousands of companies worldwide. This comprehensive analysis involved meticulous scrutiny of factors such as relevancy, popularity, security scoring, and focus within the domain of DMARC. 
With over 40 competing DMARC companies in the running, PowerDMARC emerged as the frontrunner, further establishing its reputation in the field.
What Sets Us Apart?
What sets PowerDMARC apart is not only the technological prowess but also our customer-centric approach. Our commitment to educating our clients and ensuring seamless integration of DMARC solutions into their existing infrastructure has been instrumental in our success. We are a strong believer in inclusivity, which is why our platform supports 11 languages and can be fully translated for ease of navigation!
We believe in making email authentication management accessible, affordable, and easy for businesses so they can focus their efforts elsewhere. We have helped thousands of customers spanning 50 countries reach DMARC compliance on their emails, consistently providing top-notch services that exceed their expectations. 
Join the Journey
Don't let your organization's email communications be vulnerable to exploitation. Discover how PowerDMARC's comprehensive suite of email authentication and DMARC monitoring solutions can revolutionize your email security strategy. 
Step into a future where your inbox is a fortress, not a liability, and take the first step today by partnering with us in shaping a secure digital landscape. Give our DMARC analyzer platform a trial for free!