Improving Domain's Security with DMARC Analysis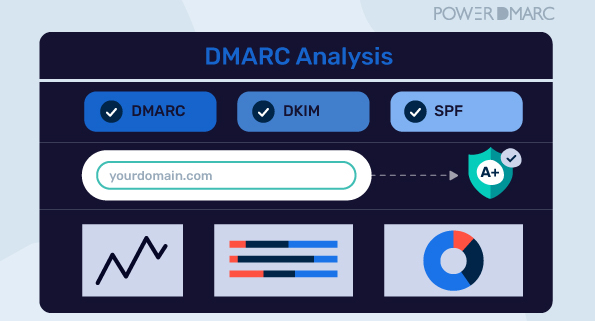 Do you Need DMARC Analysis?
To monitor your domain's health and security you need to conduct a DMARC analysis from time to time, preferably on a daily basis. This is especially beneficial for organizations that have a steady email flow. DMARC analysis is an important practice for large enterprises as well as small businesses and startups who are freshly commencing their email authentication journey.
Startups and enterprises around the world are resorting to email authentication to better protect their brand against domain impersonation and email compromise. Businesses pay off billions of dollars in compensation every year to recover from cyber-attacks.
What is DMARC analysis?
A DMARC analysis is the process of examining and evaluating the DMARC policy and records of a domain. This analysis is used to understand how well a domain is protected by DMARC, identify any issues or vulnerabilities, and check whether the DMARC policy is properly configured. This analysis can be done manually by reviewing the DMARC DNS records, or automatically by using a DMARC analysis tool.
As you introduce DMARC into your existing security posture you need to track your email's performance and compliance with the protocol to ensure your deliverability doesn't get affected. Proper implementation can, with time, help you improve your reputation and credibility and increase the chances of your messages reaching your target audience. 
We provide you with an array of effective tools that you can deploy to help you with your DMARC analysis, making sure you stay abreast of any DMARC vulnerability. The results are accurate and most importantly, they won't cost you a dime!  Let's discuss what they are:
1. Perform a DMARC analysis using DNS record validator tools
SPF, DKIM, and DMARC validator tools
Checking your DNS records is the first step toward gaining compliance. If you have DMARC implemented for your domains, you naturally have either SPF or DKIM or both configured for those domains as well. Use our free DMARC record lookup tool to ensure that your record is valid and devoid of errors and redundant or incorrectly configured mechanisms. 
While checking your SPF record a common error that you may come across is your record exceeding the 10 DNS lookup limit. While using our SPF checker tool, the prompt will highlight this error which can be resolved by flattening SPF to stay under the limit at all times.
2. Getting your Domain's Email Security Evaluated
Discover errors in your policies through a security evaluation report
Another way you can perform a DMARC analysis for your domain is to get your very own security rating with the help of our free PowerAnalyzer. When you enter your domain name and run a quick check on this tool it instantly generates a detailed DMARC analysis report for that domain. This report highlights:
The status of your DNS records, their validity, and existing errors

Tips on how to resolve security issues and better protect your domain

An overall domain security rating is based on how well-protected your domain is against phishing, spoofing, and ransomware attacks
3. Enabling Monitoring and Reporting for your Domains
DMARC reports can help you actively monitor your emails for any problems in delivery and authentication. When you sign up for our free DMARC analyzer, you enjoy DMARC analysis at your fingertips without the hassle of redirecting your reports to your mailbox in the form of disorganized DMARC XML files. 
Our user-friendly interface provides a customized dashboard for every user with actionable insights on your SPF and DKIM authentication results for every email that leaves your system. This helps you detect fraud faster and gain DMARC compliance on your messages. 
Other benefits of a DMARC monitoring tool include the ability to transition smoothly to a more stringent authentication policy. This in turn protects your domain from social engineering attacks like phishing, spoofing, and BEC.
Where do we Fit into your DMARC Analysis Lifecycle?
PowerDMARC is an email authentication SaaS platform with API capabilities that can seamlessly integrate with your third-party tools and existing infrastructure. We help you automate DMARC analysis, taking you through onboarding, monitoring your email's health and performance, and helping your reach enforcement at the fastest market speed.
Our zero-trust email security model is designed to significantly minimize data leakage and brand impersonation while ensuring the smooth deliverability of legitimate emails. All this starts with a free DMARC trial, giving you the opportunity to test out our advanced tools without any associated costs. Sign up now!

Latest posts by Syuzanna Papazyan
(see all)