5 Important Phishing Terms All Marketers Should Know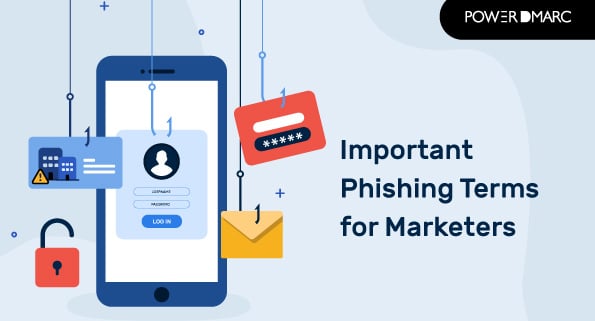 Marketers are the designers of brand image, hence they need to be aware of these 5 famous Phishing terms, that can wreak havoc on a company's reputation.  Phishing is a type of attack vector that involves a website or email that looks as if it is from a reputable organization but is actually created with the intent of gathering sensitive information such as usernames, passwords, and credit card details (also known as Card Data). Phishing attacks are common in the online world.
When your company falls victim to a phishing attack, it can cause brand name harm and interfere with your search engine ranking or conversion rate. It should be a priority for marketers to protect against phishing attacks because they are a direct reflection of your company's consistencies. Hence, as marketers, we need to proceed with extreme caution when it comes to phishing scams.
Phishing scams have been around for many years. Don't worry if you didn't hear about it before, it isn't your fault. Some say that the cyber scam was born 10 years ago but phishing officially became a crime in 2004. As Phishing techniques continue to evolve, encountering a new phishing email can quickly become confusing, and sometimes it's hard to tell if the message is legitimate or not. You can better protect yourself and your organization by being alert to these five common phishing techniques.
5 Common Phishing Terms You Need to Know
1) Email Phishing 
Phishing emails are usually sent out in bulk from a domain that mimics a legitimate one. A company might have the email address [email protected], but a phishing company might use [email protected]. The goal is to fool you into clicking on a malicious link or sharing sensitive information by pretending to be a real company you do business with.  A fake domain often involves character substitution, like using 'r' and 'n' next to each other to create 'rn' instead of 'm'.
Phishing attacks are constantly evolving and getting more and more undetectable with time. Threat actors are using social engineering tactics to spoof domains and send fraudulent emails from a legitimate domain, for malicious ends.
2) Spear Phishing 
A spear phishing attack is a new form of cyberattack that uses false information to gain access to accounts that have a higher level of security. Professional attackers have a goal of compromising a single victim, and in order to carry out this idea, they research the company's social profile and the names and roles of employees within that company. Unlike phishing, Spear phishing is a targeted campaign against one organization or individual. These campaigns are carefully constructed by threat actors with the sole purpose of targeting a specific person(s) to gain access into an organization.
3) Whaling
Whaling is a highly targeted technique that can compromise the emails of higher-level associates. The objective, which is similar to other phishing methods, is to trick employees into clicking on a malicious link. One of the most devastating email attacks to pass through corporate networks is the whaling scam. These attempts at personal gain using powers of persuasion to lower victims' resistance, tricking them into handing over company funds. Whaling is also known as CEO fraud, as attackers often impersonate people in authoritarian positions such as the CEO of a company.
4) Business Email Compromise 
Business Email Compromise (BEC) is a form of cyber crime which can be extremely costly to businesses. This type of cyber attack uses email fraud to influence organizational domains into partaking in fraudulent activity resulting in the compromise and theft of sensitive data. Examples of BEC can include invoice scams, domain spoofing, and other forms of impersonation attacks. Each year an average organization can lose up to $70 million dollars to BEC scams, learn more about 2020 BEC attack statistics. In a typical attack, fraudsters target specific employee roles within an organization by sending a series of fraudulent emails that claim to be from a senior colleague, customer, or business partner. They may instruct recipients to make payments or release confidential data.
5) Angler Phishing 
Many corporations have thousands of customers and receive hundreds of complaints daily. Through social media, companies are able to escape the confines of their limitations and reach out to their customers. For this, corporations often use community management and online reputation management tools. This enables a corporation to be flexible and adjust to the demands of its customers. Angler phishing is the act of reaching out to disgruntled customers over social media and pretending to be part of a company. The angler phishing scam is a simple ploy used to trick casual social media users into thinking that a company is trying to remedy their problems when in reality, the person on the other end is taking advantage of them.
How to Protect Your Organization from Phishing and Email Fraud
Your email service provider may come with integrated security packages as a part of their service. These however act as spam filters that offer protection against inbound phishing attempts. However, when an email is being sent by scammers using your domain name to recipient inboxes, like in the case of BEC, whaling, and other forms of impersonation attacks listed above, they won't serve the purpose. This is why you need to avail of email authentication solutions like DMARC, immediately and shift to a policy of enforcement.
DMARC authenticates your emails by aligning them against SPF and DKIM authentication standards.
It specifies to receiving servers how they should respond to emails failing authentication checks.
DMARC aggregate (RUA) reports provide you with enhanced visibility into your email ecosystem and authentication results and helps you monitor your domains easily.
DMARC forensic (RUF) reports give you an in-depth analysis of your DMARC failure results, helping you respond to impersonation attacks faster.
How Can PowerDMARC Help Your Brand?
PowerDMARC is more than just your DMARC service provider, it is a multi-tenant SaaS platform that provides a wide range of authentication solutions and DMARC MSSP programs. We make email authentication easy and accessible for every organization, from small businesses to multinational enterprises.
We help you move from p=none to p=reject in no time, so as to protect your brand from impersonation attacks, domain spoofing, and phishing.
We help you easily configure DMARC reporting for your with comprehensive charts and tables and RUA report views in 6 different formats for ease of use and amplified visibility
We cared about your privacy, so you can encrypt your DMARC RUF reports with your private key
We help you generate scheduled PDF reports on your authentication results
We provide dynamic SPF flattening solution like PowerSPF so that you never exceed the 10 DNS lookup limit
We help you make TLS encryption mandatory in SMTP, with MTA-STS to protect your domain from pervasive monitoring attacks
We help you make your brand visually identifiable in your recipient inboxes with BIMI
Sign up with PowerDMARC today to get your free DMARC analyzer tool trial, and shift from a policy of monitoring to enforcement to provide your domain maximum protection against BEC, phishing, and spoofing attacks.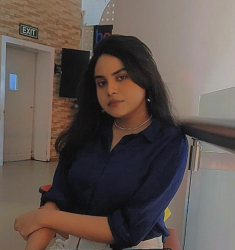 Latest posts by Ahona Rudra
(see all)