In today's interconnected world, computer security is of utmost importance. With the increasing number of cyber threats, staying informed about the latest threats is essential to safeguard our data and systems. 
One such emerging threat is fileless malware increasing drastically. 
The endpoint technologies from WatchGuard had "already detected about 80% of the fileless or living off the land assaults that [they] witnessed for the whole of 2020" by the end of 2021. Source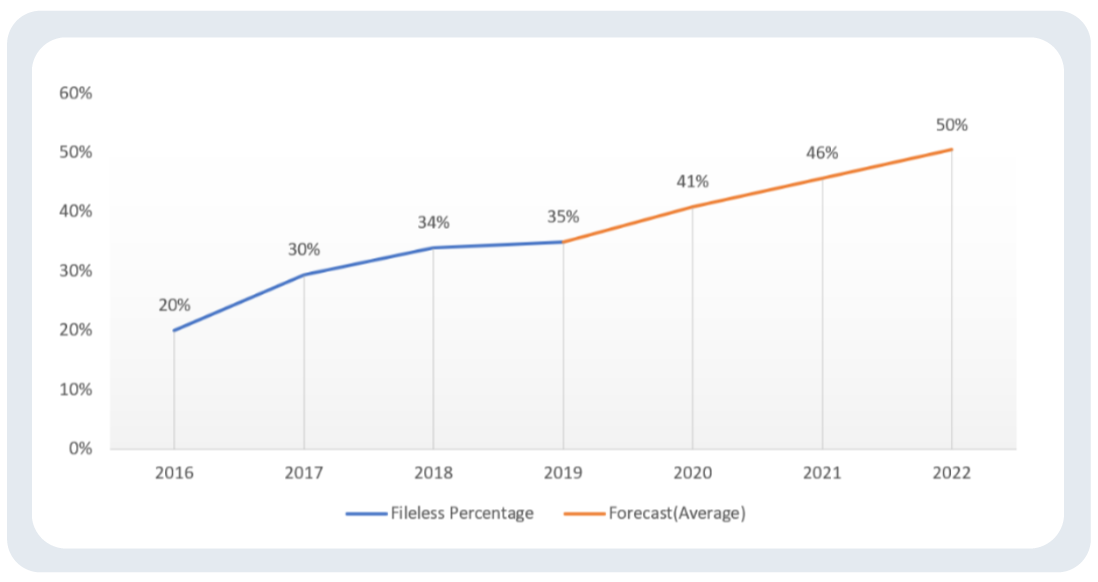 As the name suggests, it is a type of malware that operates without creating files on the target system, making it difficult to detect and remove.
In this article, we will explore fileless malware, how it works, and what measures can be taken to protect against it.
What Is Fileless Malware?
Fileless malware is a type of malicious code that operates entirely in the memory of a computer system without creating any files on the hard drive. Traditional malware, such as viruses, trojans, and worms, rely on files to infect and spread across a system. 
In contrast, fileless malware resides in the system's RAM, registry, and other volatile storage areas, making it difficult to detect using conventional antivirus software.
How Does Fileless Malware Work?
Malware that doesn't use files operates by entering your computer's memory. Hence, no harmful code ever makes it onto your hard drive. It enters your system in a strikingly similar manner to that of other malicious software.
For example, a hacker may deceive a victim into clicking on a link or attachment in a phishing email. To induce the victim to click on the attachment or link, the attacker may utilize social engineering to play on their emotions. Afterward, the malware enters your system and spreads from one device to another.
Attackers can access data they can either steal or exploit to obstruct an organization's activities using fileless malware. Fileless malware conceals itself using tools that system administrators would typically trust, including Windows scripting tools or PowerShell. 
They are frequently included in a company's allowlist of applications. Fileless malware corrupts a trustworthy program, making it more challenging to detect than malicious software that lives in a separate file on your hard disc.
Fileless Malware Attack Chain
Source
As fileless malware operates in memory and makes use of trusted technologies, signature-based antivirus software, and intrusion detection systems frequently mistake it for benign software.
Due to its ability to work covertly, sustain persistence, and go unnoticed by target organizations lacking the necessary tools, it essentially renders them oblivious to a continuing intrusion.
Enterprises' reliance on signature-based solutions to protect their networks is a key factor encouraging CTAs to launch fileless malware attacks against networks.
Types of Fileless Malware
Here's how Fileless Malware spreads because of various types:
Memory-based fileless malware

is the most common type of fileless malware, which resides in the system's RAM and other volatile storage areas.

Script-based fileless malware

uses scripting languages, such as PowerShell or JavaScript, to execute malicious code in the memory of a target system.

Macro-based fileless malware

uses macros embedded in documents, such as Microsoft Office files or PDFs, to execute malicious code in the memory of a target system.

Registry-based fileless malware

resides in the system's registry, a database that stores configuration information for the operating system and installed software.
Stages of a Fileless Attack
The following are steps that an attacker may take during a fileless attack:
Initial Access
The attacker gains initial access to the target network through phishing or other social engineering techniques.
Execution
The attacker delivers the malicious code to one or more computers in the target network using several techniques (such as through an email attachment). The malicious code runs in memory without touching the disk. This makes it difficult for antivirus software to detect the attack and prevent it from succeeding.
Persistence
The attackers install tools (for example, PowerShell scripts) that allow them to maintain access to the network even after they have left their initial point of entry or after their initial malware has been removed from all infected devices.
These tools can be used to execute attacks against the same network while remaining undetected by antivirus software because they do not leave any traces on disk or in memory once they have completed their task of installing new malware components or performing other tasks that require administrative rights on targeted systems.
Objectives
Once an attacker has established persistence on a victim's machine, he can start working towards his ultimate objective: stealing data or money from victims' bank accounts, exfiltrating sensitive data, or other nefarious activities.
The objectives of a fileless attack are often very similar to those of traditional attacks: steal passwords, steal credentials, or otherwise gain access to systems within a network; exfiltrate data from a network; install ransomware or other malware on systems; execute commands remotely; and so forth.
How to Protect Against Fileless Malware?
Now you must be worried about how you can save yourself from this severe threat. Here's how you can be on the safe side:
Keep Your Software Up to Date: Fileless malware relies on exploiting vulnerabilities in legitimate software applications. Keeping your software updated with the latest security patches and updates can help prevent attackers from exploiting known vulnerabilities.
Use Antivirus Software: While traditional antivirus software may not be effective against fileless malware, specialized endpoint protection solutions, such as behavior-based detection or application control, can help detect and prevent fileless malware attacks.
Use Least Privilege: Fileless malware often requires administrative privileges to execute attacks. Using the principle of least privilege, which limits user access to the minimum level required to perform their job, can help reduce the impact of fileless malware attacks.
Implement Network Segmentation: Network segmentation involves dividing a network into smaller, isolated segments, each with its security policies and access controls. Implementing network segmentation can help contain the spread of fileless malware attacks, limiting their impact on the organization.
The Verdict
Fileless malware is a highly sophisticated cyber attack that poses a significant threat to computer systems and networks. Unlike traditional malware, fileless malware operates entirely in the memory of a target system, making it challenging to detect and remove using conventional antivirus software. 
To protect against fileless malware, it is essential to keep software up to date, use specialized endpoint protection solutions, implement the principle of least privilege, and employ network segmentation. As cyber threats evolve, it is crucial to stay informed about the latest attack techniques and take proactive measures to safeguard our data and systems.